Hello to my English-speaking visitors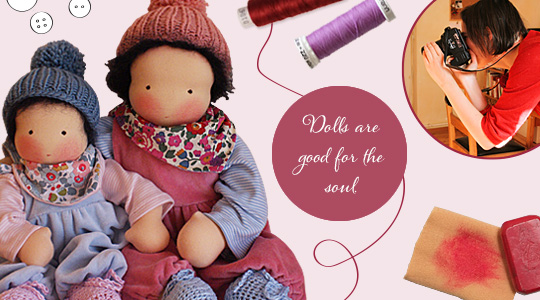 Although the majority of the website is offered only in German, below you will find the most important information regarding the Mariengold dolls, me the doll maker, custom orders, prices and Mariengold patterns and tutorials for doll clothes and doll making.
If you have any further questions, I warmly welcome you to write me at hello@mariengold.net.
If you want to read my website in your language, please use an online translator, for example the one from Google.
Mariengold
My name is Maria and I am a doll designer, author and communications graduate from Berlin. After concluding my studies at the Berlin University of the Arts, I started my own business with the label Mariengold in 2007.
I design and fashion professionally hand-made dolls, and publish e-books with do-it-yourself tutorials for dolls and doll clothes. I teach local doll making classes regularly and write a blog that offers journalistic articles relating to dolls and doll making, as well as colorful accounts from my workshop and my life.
You can find my portfolio in my Flickr photostream.
You can find my webshops at Etsy and DaWanda. There I sell dolls, e-books for the making of dolls and doll clothes, as well as material kits & supply for doll making.
How to Buy a Mariengold Doll
Custom orders are welcome. If you want to order a doll, write to me at hello@mariengold.net. Please see prices and details below.
The waiting time for a commissioned Mariengold doll is several weeks at the moment. If you have such time and patience, I will add your name to my waiting list and let you know as soon as your custom spot comes up. It is at that point that we can talk about the details of your order.
If you want to purchase a doll on short notice, I suggest my Friday dolls. Each week I upload one ready to go doll to my shops at Etsy and DaWanda, which I always show up-to-date on Fridays here on my blog. It is not possible to reserve Friday dolls. So you need a bit of luck to get a doll.
If you bought and Mariengold doll and want to make more clothes for your sweetheart yourself, I will gladly send you an e-book with tutorials and patterns for free on inquiry.
Prices: Dolls and Doll Outfits
The doll prices include one outfit of your choosing consisting of five or six garments, including shoes, however not a cardigan. The dolls have (or do not have if you better like them without) a nose, a belly button and a simple bottom, as well as ears, freckles, eyebrows, dimples and extra weight on demand.
20 cm mini doll 125 Euros
30 cm doll child 180 Euros
40 cm doll child 200 Euros
30 cm baby doll 180 Euros
45 cm baby doll 220 Euros

Fluffy hair 25 Euros
Ears 20 Euros
Extra weight 25 Euros
Dimples on elbows and knees 10 Euros
30 cm cuddle doll with a velvet body and sewn-on cap 85 Euros

Payment is due within 7 days from date of invoice.
Prices valid from January 2014.
You can pay via Paypal, international bank transfer or Western Union.
The price for international registered shipping from Germany depends on the parcel's weight, but is either 10 Euros or 20 Euros.
If you would like to know what my prices are in your currency, you will find many currency converters on the internet, for example at www.xe.com.
Tutorials for the Making of Dolls and Doll Clothes
In addition to making dolls, I also enjoy designing doll clothes and various doll types. In my Etsy and DaWanda webshops I offer e-books for the making of dolls and doll clothes as well as material kits and supply for doll making.
There are five doll making e-books available at the moment. They are for the dolls Mitzi, Baby Twink, Pip and Kulla as well as for the felted head doll Charlie Bo by Mariengold and 1000 Rehe. Your self-made dolls can be dressed up with three e-books for creating wardrobe treasures for girl dolls, boy doll and baby dolls.
In my Portfolio you will find lots of pictures of Mariengold dolls that might encourage you to make a doll yourself. The album Tutorials for Dolls and Doll Clothes shows an overview of the available Mariengold e-books and tutorials. A picture collection of dolls created with my  doll making e-books you will find in the album Dolls Made with my E-Books and in my Classes.
Language Information
Since Mariengold is based in Germany, the business language is German.
I do speak English and interact in this language with my international customers. But I write my bills in German. Also my general terms and conditions are in German. If you have any questions, don't hesitate to ask – I will gladly inform you about my terms and conditions in English.
Best regards,
Maria
hello@mariengold.net
---